Sponsorship Opportunities available now. Tickets on sale soon.
Space is limited for this exclusive event.
When: Saturday, September 11, 2021
Where: Tioga Downs Event Center, Nichols, N.Y.
All appropriate COVID guidelines will be followed. If the Guthrie Gala is forced to cancel, all applicable sponsorship benefits will be honored, and 100% of your generous sponsorship will benefit the Sayre House of Hope.
About the House of Hope
Sayre House of Hope, a 501c3 nonprofit residential facility located on Guthrie's Sayre campus, provides affordable temporary housing and support to Guthrie's patients and their families 365 days each year. Guthrie Gala proceeds are the primary funding source of Sayre House of Hope. 
Sayre House of Hope by the Numbers
Number of Rooms: 6
Number of uses in 2019: 775
Number of lives touched: infinite 
Sponsorship Opportunities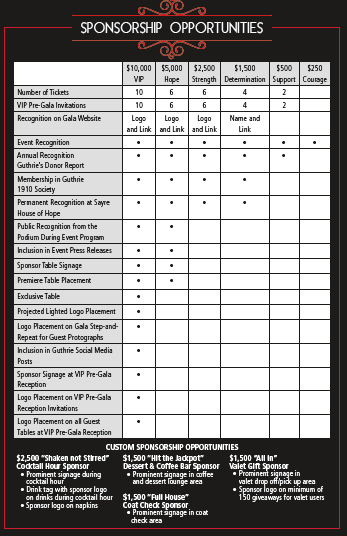 House of Hope Board Members
Carly Nichols, President & CEO
Nancy Brittain, Chair
Betty Murtland, Secretary
Robert Crocker
Dr. Sherry Griggs
Denise Ives
Janet Lewis
Elizabeth Hibbard, Resident Manager
Guthrie Gala Committee
Kim Cummings, Chairperson
Katie Behm
Cynthia Bloom
Nichole Cocco
Sarah Dunn
Tricia Huston
Margie Lawlor
Tracy Marica
Kelly McElhaney
Karen Ronsivalle
Linda Scopelliti
Jennifer Sherwood